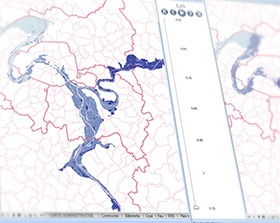 GEOCONCEPT is putting 4D at the heart of its new Geoconcept 7.1 mapping engine
Compatible with Windows 8, the new Geoconcept 7.1 engine will enable GEOCONCEPT users to take advantage of new functionality to boost their organisation's efficiency.
Paris, France 27 November 2012 : GEOCONCEPT, the leading designer of geographical optimisation technologies for professionals, today announced the launch of Geoconcept 7.1, the new version of its technological geo-optimisation engine. The engine's new functionality will be available in all the business applications offered by GEOCONCEPT (geo-marketing, mobility, territory management, crisis management). This new version will be available for sale and downloadable from the publisher's website from the end of November 2012 onward.
Advanced interoperability
Benefiting from the development of multi-tactile devices (portable PCs and tablets, screens...), Geoconcept 7.1 features an uncluttered and intuitive interface, thus providing access to navigation, selection and object creation functions in "multi-touch" mode. A real bonus for all users who are now able to work on their maps interactively and intuitively. Users in the field, technicians or members of the emergency services, for example, are especially impressed by this innovation.
 
A redesigned external data link
The development of the "links" menu simplifies access to the most frequently used external data. Imports/exports are facilitated for different types of format (Excel or Access, shapefile, text, raster...). A new data source using the GDAL/OGR library provides access to several dozen import formats such as Google Earth's KML format. Finally, there is guaranteed compatibility with the latest versions of PostGreSQL/PostGIS.
 
Layout rich in new functionality
Geoconcept 7.1 now offers the link between map blocks at different scales, making it possible to display how one fits into the other. It also enables a 3D view to be displayed in the layout. Finally, the improved configuration of rectangles, ellipses, polylines and the rotation of text blocks are part and parcel of the new sophisticated options in this latest version.
 
Geoconcept 7.1 is also...
The simplified generation of centroids and lines based on point analysis
Topological regrouping of lines
The duplication of objects in another sub type
The time-stamping of object modifications in a new dedicated field
A new look query editor...
At the launch of this new version, Eric Lanzi, GEOCONCEPT's founder and CEO, said « Geoconcept 7.1 perfectly illustrates our determination to offer our users ever more powerful and ergonomic solutions. This new version incorporates our customers' comments and technological innovations With Geoconcept 7.1, we are now also the first GIS publisher to put 4D at the heart of the system, opening up new opportunities and providing even greater interactivity and dynamism. GEOCONCEPT is thereby responding to current professional geographical challenges, be it the availability and use of multidimensional geographical data or interoperability».