The solution for optimisation of geographical districting
Balanced customer portfolio, resource assignment, definition of delivery zones...
Territory Manager for Geoconcept defines optimised sectors allowing to exploit their market potential to the full and to maximize the efficiency of operations (new sites, prospection, delivery…). 

Multi-constraint
optimisation
Equidistance, compactness, balancing, attachment to poles... 

Grid and business strategies
Building sectors, assignment of resources to points

Simulation based on models
Optimisation of existing territories with interactive adjustment

Publishing the results of optimisation
Historization of results, geographic reports, web publishing
Sectors adapted to your strategy 
Sales Managers, planners and decision-makers easily define the geographic criteria (compactness, accessibility…) and business criteria (customers, potentials, work load…) they wish to be considered and Territory Manager for Geoconcept calculates the optimal districting.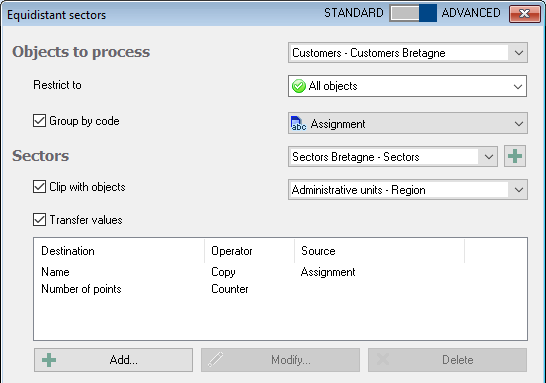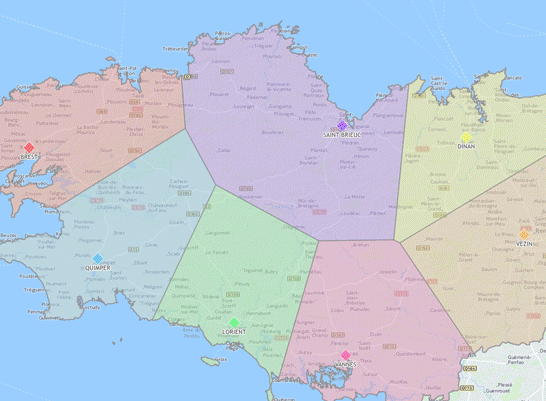 Optimisation of existing sectors
Your territory is already divided into sectors, but you want to test new strategies?
You must reorganize your commercial segmentation?

With Territory Manager for Geoconcept, simulate new sales distributions and find the ideal organisation.
Respect for business knowledge
Territory Manager makes available the scientific rigor to the business know-how.

Proposed results can be adjusted manually with easy-to-use tools. Any modification has an immediate impact on the district scoring.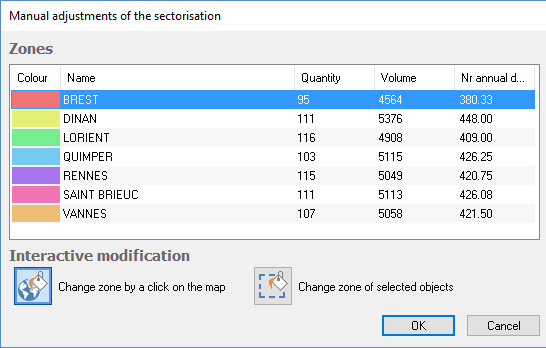 The method you need
Territory Manager for Geoconcept offers many districting methods:
Calculate equidistant sectors (Voronoï) ;
Optimise sectors from a set of points ;
Define a districting by attachment to poles;
Build a districting by aggregating surface objects...

Discover Territory Manager for Geoconcept main functionalities:
Balanced territories :
Redistricting territories(1'40 min.)
Balanced territories :
redistricting with points (1 min.)
You want to receive an offer, or to assist a one-to-one demo?