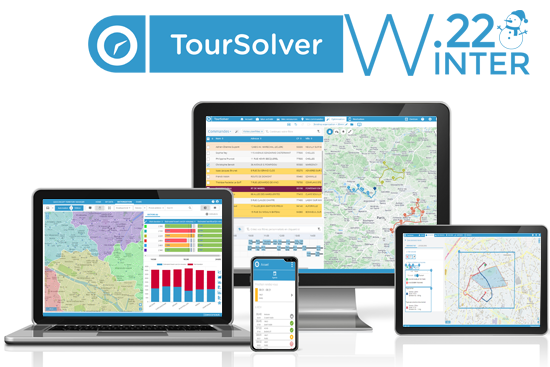 Opti-Time TourSolver Winter 2022 is now available
Grouping of appointments into eco-slots, instantaneous invoicing via QuickBooks, real-time appointment booking to mitigate emergencies, … the flagship route optimization software product addresses logistics teams' challenges while enabling them to concentrate on their core business.
Paris, 24 November 2021 – A new Winter 2022 release of Opti-Time TourSolver, SaaS route optimization solution, is now available.

With inviting new features, and a focus on ergonomics and flexibility, this new version enables logistics teams to improve efficiency, enabling them to concentrate on their core business.

Here is an overview of the principal new features of the Winter 2022 version:

Grouping nearby visits with the addition of an "eco-slot"
With a view to reducing not only costs, but carbon emissions as well, GEOCONCEPT by Nomadia is adding an eco-slot feature to Opti-Time TourSolver. When a customer makes a new request, the system identifies nearby visits that are already scheduled and proposes the slot offering the most nearby visits to avoid fundamentally disrupting the validated route. The advantage of this feature is to limit the environmental impact by avoiding mobilizing additional logistical resources.

Automatic invoicing
Opti-Time TourSolver now enables an invoice to be generated and sent immediately after a field service call, using the QuickBooks accounting application. This process, which is automatically updated as invoices are sent, can be monitored in Opti-Time TourSolver and in QuickBooks to provide an overview.

Real-time planning to respond to emergencies, no-shows or last-minute postponements
Reality in the field is not always predictable. It is imperative to respond quickly to hazards to ensure service continuity and to avoid disrupting the logistics chain. For example, when a customer calls to report a last-minute change, it is now possible to plan visits on the fly, in under 4 seconds. An algorithm checks the availability of the mobile resource, the travel time with nearby visits, and delivery capabilities.

Recording of the GPS position
Incorrect or incomplete addresses may cause delays or even failed journeys. What is more, they create inaccurate route plans and increase distances driven in the field. To optimize route accuracy, Opti-Time TourSolver can now record the GPS position during visits, to make it easier to find them (again).

The Winter 2022 version also includes:
Traffic-based planning: traffic is now taken into account when calculating journeys between visits. For example, the average speed is adjusted during peak hours between 07:00 and 09:00 a.m. The same goes for journeys in large, built-up, frequently congested, areas.
Improved ergonomics: a new optimization wizard and redesigned interfaces reduce the initial configuration time of the application solution by a factor of between 2 and 3.
Access to customer visits' historical data: monitoring each customer's historical data, namely the number of visits performed, their dates, times and visit duration is now possible, improving traceability efficiency.
Discover Opti-Time TourSolver

The mobile application is available for all field resources, at no extra cost. It can be found on Google Play or theApp Store.