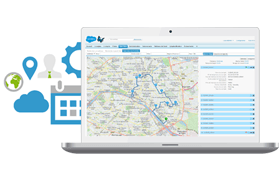 New version of the field service management cloud application : Opti-Time Cloud 2.5
GEOCONCEPT announces Opti-Time Cloud 2.5, the new version of its field service management cloud application
Fully integrated with the Salesforce environment, the Opti-Time Cloud 2.5 app enriches the geographical experience by making cartographic optimization accessible directly from the field. This new version improves the organization of companies' daily activities.
GEOCONCEPT, the designer of geographical optimization technologies for professionals, is today announcing Opti-Time Cloud 2.5, the new version of its field service management cloud application. To enrich the cartographic experience at the heart of Salesforce, this version 2.5 makes geographical optimization accessible from the field by enabling users to monitor and amend route plans while on the move from the Salesforce1 application.
Available on AppExchange, Opti-Time Cloud enables decision-makers and operational staff to improve their customer knowledge, to better prepare their movements throughout a day and to optimize the scheduling of different resources over several days.
With Opti-Time Cloud 2.5, new features, such as round management and optimization, are now available in the Salesforce1 application. Functional improvements offer users optimal solutions for optimizing the organization of their daily activities: automatic appointment planning over several days, management of appointments, unavailability and travel, looking for nearby accommodation …
Enrichment of the mobile mode
To improve field activity effectiveness, Opti-Time Cloud 2.5 is enriching its mobile mode with advanced round management directly from the field. From the Salesforce1 application on his smart phone or tablet, the user can:
display his calendar appointments on a map and switch easily from one round to another;
optimize the scheduling of his appointments for the day and display the productivity gains achieved in real time (reduction in mileage);
record the optimized appointments in one's diary.
Improved round optimization features
Version 2.5 of Opti-Time Cloud offers improved ergonomics and new features enabling the user to organize his rounds efficiently:  recording in the diary the journeys to be made between appointments, looking for nearby points of interest, automatic search for accommodation in the vicinity of the first appointment of the day and/or of the last appointment, easier display of rounds from the map…
Improved geo-planning features
The management of events is directly integrated into the Salesforce calendar to facilitate the automatic generation of optimized appointments for one or a number of resources over a given period.
Upon creating a new event, automatically located, the user can define:
the type of event: an appointment with a customer or unavailability (telephone appointment, in-house meeting, holidays…)
event status: planned, confirmed or completed.
Opti-Time Cloud 2.5 is now available on AppExchange in cumulative versions: Geo, Tour and Optim.