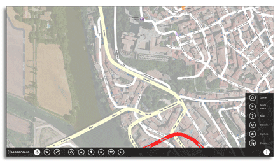 New engine : GIS Geoconcept 7.3
GEOCONCEPT is promoting both access to and the sharing of geographical information with its new Geoconcept 7.3 engine
Main new features of Geoconcept 7.3
2 user modes : standard or advanced
Document sharing on the web
Upgraded route calculation engine (eco-tax, toll, vehicle profile)
Upgraded and customizable touch sensitive interface
GEOCONCEPT is promoting both access to and the sharing of geographical information with its new Geoconcept 7.3 engine
Main new features of Geoconcept 7.3
2 user modes : standard or advanced
Document sharing on the web
Upgraded route calculation engine (eco-tax, toll, vehicle profile)
Upgraded and customizable touch sensitive interface
GEOCONCEPT, the designer of geographical optimization technologies for professionals, is today announcing the launch of Geoconcept 7.3, the new version of its geo-optimization engine.
Intuitive, powerful and user-friendly, this version is now commercially available.

Democratizing geo-optimization
Whereas every organization operates in one or more territories (catchment area, delivery round, land registry, etc.), not all of them necessarily possess sufficient human skills to analyze and exploit the strategic information they generate. In the new version of its engine, GEOCONCEPT provides users with two modes - standard or advanced - to offer each beginner or more experienced user access that is tailored to the tool's features.
Most notably the standard mode offers simplified wizards (thematic analysis, regrouping/sectoring, graph properties) making it easy for beginner-level easily to conduct a comprehensive analysis within a single configuration screen. In advanced mode, more knowledgeable users can apply a far more sophisticated configuration.
Promoting collaboration
With just a few clicks, Geoconcept 7.3 makes it possible to configure and publish PDF documents (reports, layouts...) to Geoconcept Internet Server for sharing in web mode. The "links" menu enables the document to be uploaded directly to a remote server or else to publish it by creating or updating an Easy GeoWeb project (simplified 
Geoconcept Web
 4.6 map publication wizard). These new web publication features make it easier to share and distribute geographical information to improve communication and decision making.
Optimizing transport costs
Scheduled to come into effect by the end of the year, the eco-tax will affect the transport costs of companies in France operating goods vehicles weighing more than 3.5 metric tons. To help these companies optimize their costs, Geoconcept 7.3's new route calculation and distance table engine now makes it possible to estimate more accurately the cost associated with a journey by including not only the highway toll costs but the eco-tax calculation as well. Identifying the lowest tax routes will thereby enable greater control of transport costs. This new version also makes it possible to configure standard vehicle profiles (car, truck, delivery vehicle...) and thereby to establish appropriate routes.




Geoconcept 7.3 also means…
the availability of numerous new import (WFS, VMAP...) and export (Geospatial PDF, TAB, WFS, VMAP...) formats,
simplified access to SQL Server and MySQL data sources,
an enhanced touch-sensitive mode (tracking, highlighting...) that is customizable using the Geoconcept development kit,
numerous new features such as bulk calculation, creating link points, enhancing the copy/paste feature...
At this new version's launch, Eric Lanzi, GEOCONCEPT's founder and CEO, said
« Geoconcept's GIS technology is at the heart of a comprehensive management and geographical information system combining technical and functional performance to extract maximum benefit from geo-optimization. We are proud to be able to present our users with our new 7.3 engine, characterized by the speed and quality of its data processing and by its openness.»
About the GEOCONCEPT Group
Created from the merger between
GEOCONCEPT
, Europe's leading Geographical Information System publisher, and Opti-Time, which publishes software for professionals, today the GEOCONCEPT Group ranks among the world leaders in enterprise cartographic and optimization applications.
Always at the forefront since it was founded in 1990, GEOCONCEPT combined geographical information and optimization tools to invent geo-optimization, or the optimization of activities by intelligently integrating geographical information into systems. Innovation is always at the heart of the Group's strategy with 25% of its expenditure dedicated to R&D.
The benefits of geo-optimization apply to areas as varied as geo-marketing, territory management, crisis management or mobile workforce management… Within each area, the geographical optimization components and solutions can be integrated directly by the clients or by Group partners.
The GeoConcept Group has locations in Paris, Grenoble and Caen as well as foreign subsidiaries: Chennai/India, Geneva/Switzerland, Madrid/Spain, Shanghai/China.
Strategic partners also resell the Group's solutions in London/Great Britain, Mexico City/Mexico,  SãoPaulo/Brazil, Tokyo/Japan…The Group's solutions are available in 7 languages.
Today the GEOCONCEPT Group boasts more than 10,000 reference customers at 100,000 geo-optimized resources in 35 countries.
www.geoconcept.com