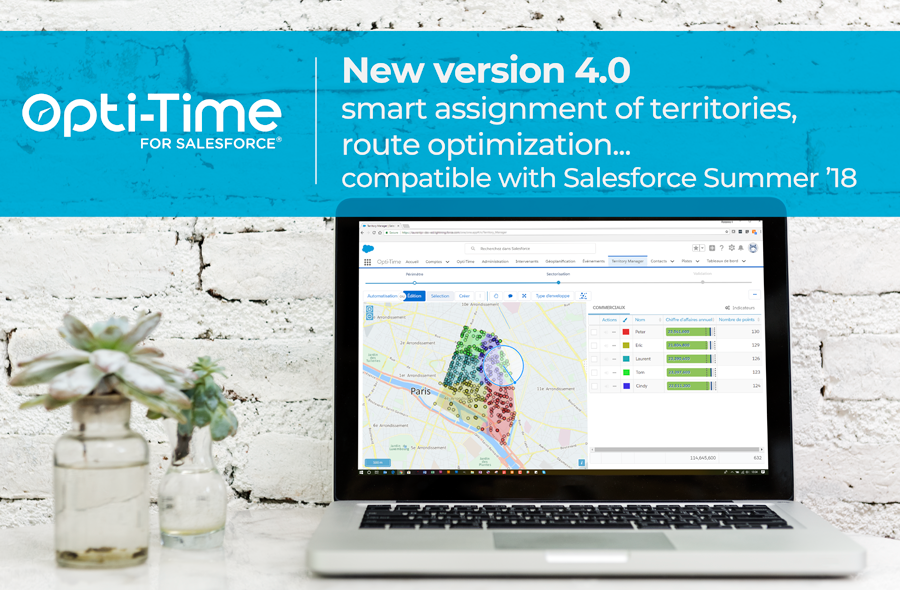 GEOCONCEPT unveils Opti-Time for Salesforce 4.0 to help managers improve their company's sales performance
The cloud application now features a geographical sectoring engine that fairly apportions activities and teams. An upgraded dashboard facilitates optimization of sales routes.

GEOCONCEPT is today announcing at Salesforce World Tour Paris, the launch of Opti-Time for Saleforce 4.0, the new version of its field sales management cloud application. This update marks the transformation of Opti-Time Cloud into Opti-Time for Salesforce and is compatible with Salesforce Summer '18.
Try out Opti-Time for Salesforce 4.0
100% integrated with the Sales Cloud environment, Opti-Time for Saleforce 4.0 enables decision-makers and operational staff to access sophisticated cloud-based geo-optimization features: balancing of the customer portfolio, route optimization, geo-planning of sales appointments...
Smart assignment of the customer portfolio
Thanks to the presence of a powerful geographical sectoring engine, the manager can now easily define, balance and optimize the assignment of sales sectors to sales forces. This major new feature enables perfect balancing of the customer portfolio within teams and the automatic assignment of prospecting territories.
This makes Opti-Time for Salesforce 4.0 a fully-fledged Territory Management tool, enabling the fair geographical assignment of both activity and teams. This balanced assignment of accounts ensures optimal market coverage while improving field team productivity. Sales targets are more tailored than ever before to the facts on the ground.
New dashboard for validating optimized schedules
Another Opti-Time for Salesforce 4.0 revolution: the automatic schedule generation interface now features an upgraded dashboard for easier analysis of the results of the simultaneous optimization of several salespersons' routes over several days.
Various presentation modes (map, schedule and list views) help the manager consult the the characteristics of the scheduled routes and to confirm their relevance before incorporating them in the sales staff's diaries. This new dashboard therefore makes for more intuitive and interactive optimized route management.
A cloud-based field sales management solution
Opti-Time for Salesforce is the ideal solution for any company looking for rapid deployment of a field sales management solution while controlling the cost of implementation and use.
With more appointments, less travel and less unproductive time, productivity gains of up to 30% can be achieved, while improving customer service quality, improving teams' working conditions and ensuring an environmentally responsible approach.
Need further info? Ask for a demo!