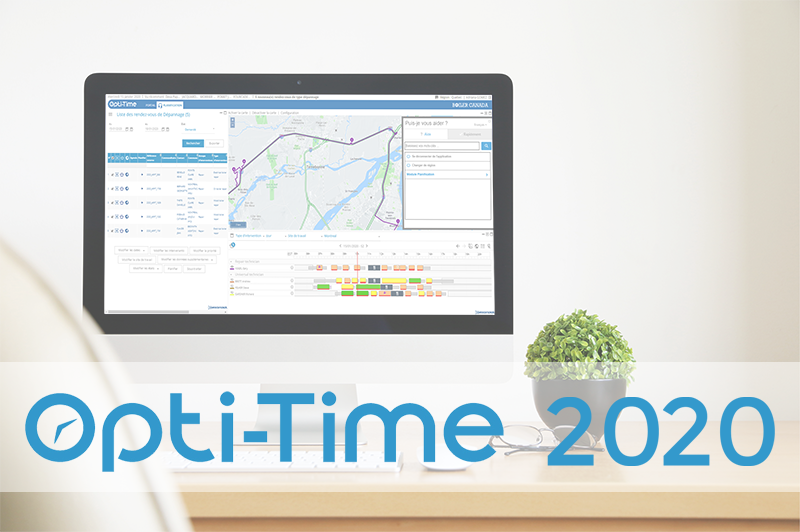 GEOCONCEPT unveils Opti-Time 2020 for optimizing the scheduling of appointments and call-outs
Opti-Time lets you create optimized schedules for targeted, relevant, rapid and cheaper customer call-outs. A comprehensive work optimization mobile add-on is also available on smart phones and tablets (Android, iOS).
Paris, 7 April 2020 - GEOCONCEPT, the geo-optimization leader, is today announcing the launch of Opti-Time 2020, the new version of its geo-optimized scheduling software suite. This full web solution enables the management of appointment and call-out schedules for mobile resources. 
E-commerce boom, responses within the hour, uberization of services...all factors incentivizing companies to optimize mobile teams' movements. To respond to changing regulations in the transport field, companies will inevitably have to transform the way in which they share their expertise.  
Opti-Time 2020 is the sales appointments and technical and logistical callout optimization tool par excellence. The integrated, constraint-based optimization engine ensures that the solution looked for is the one that best fits all the customer and service agent constraints, be they delivery staff, technicians, salespeople, auditors… From booking appointments to optimizing movements on the ground via the definition and consideration of business constraints, Opti-Time 2020 provides mobility decision-makers with a comprehensive and customizable solution for pinpoint, relevant, rapid and lower cost call-outs. 
Principal new features of Opti-Time 2020:
•    Appointment booking by the end customer: Opti-Time 2020 provides a dedicated portal* for the end customer to book an optimized appointment, that can be directly integrated with a consumer website. This tool considerably improves customer satisfaction because, when finalizing his order, the customer can select, confirm or change his call-out or delivery date and time slot. The portal being connected to the Opti-Time optimization algorithms, the timeslots offered to customers take account of schedules already confirmed by the company. Moreover, the customer can display the driver's progress on a map, consult his estimated time of arrival (ETA) in real time and rate service quality after the fact.
•    Simultaneous optimization of a mixed vehicle fleet: to address the increasingly frequent need to combine several modes of transport (supplying warehouses by HGV, with last mile delivery by bicycle for example), Opti-Time 2020 enables you to optimize mixed vehicle fleet rounds in real-time.
•    Factoring in of customizable traffic statistics: to calculate the optimal routes in real-time, Opti-Time 2020 enables 4 different speed profiles to be configured depending on the defined timeslots: off-peak, standard and peak time speeds, and traffic in built-up areas. This new feature makes it possible to reduce the impact of real-time traffic by defining routes tailored to the environment and traffic conditions. 
•    A new generation user experience through the incorporation of a digital adoption platform: unintrusive but accessible at any moment from the navigation menu, this platform guides, advises and informs users. Surveys and gamification within the application have been provided for an even richer user experience.
A comprehensive work optimization mobile add-on is available on smartphones and tablets (Android, iOS). It is therefore possible to consult one's diary information, directly from in the field, both online and off-line, and to communicate in real-time with the system: viewing appointments, posting and sending reports featuring multimedia content (photos, signature, scan…), optimized appointment booking, cartographic location, checking contact details, time-stamping calls... Operational staff have an effective and comprehensive tool in all circumstances. The 2020 version offers the following features:
•    Barcode scanning facilitates package management and traceability from within the application;
•    Improved off-line mode for better mission tracking;
•    Collaborative work assisted by sophisticated colleague geo-location and geo-fencing.
If the Opti-Time 2020 user-customizable portal will only be available in the next few weeks, the solution immediately diverts to existing websites via the optimization and planning API.