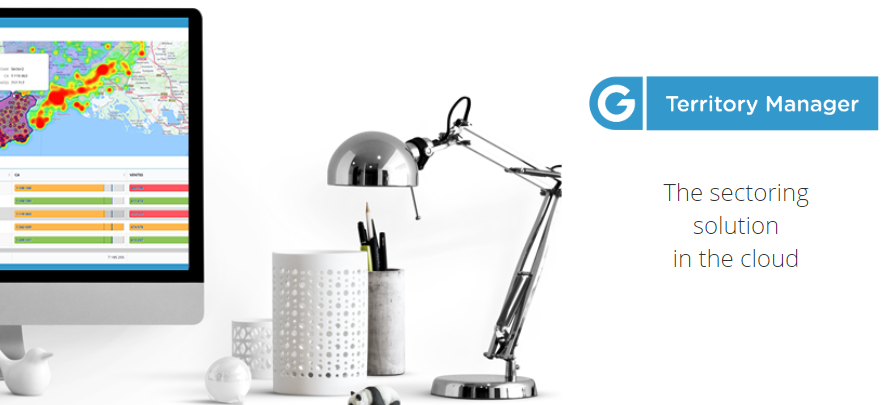 Geoconcept Territory Manager 2.0, the cloud solution that fairly distributes activity, teams and resources
GEOCONCEPT announces the new version of its Geoconcept Territory Manager solution. Accessible, simple, fast and efficient, GTM is the benchmark web solution for fairly distributing operations, teams and resources on a geographical basis.
In 3 quick and simple steps; sales managers, schedulers and decision-makers can define powerful omni-channel strategies based on balanced sales targets, optimal market coverage and improved field team productivity.
Learn more about Geoconcept Territory Manager     Try it out for free!    
It is essential to manage sales personnel activity, activity peaks that affect the distribution of technician workloads, delivery staff coming across each other on the road and driving excessive distances. To achieve this, segmenting one's territory or optimizing existing sectoring enables a market's potential to be exploited to best effect and to maximize service call and sales and logistic operations profitability!This is what Geoconcept Territory Manager 2.0 does.
The Geoconcept Territory solution, 100% cloud, has been designed for intuitive use and to enable users of every description to master it quickly. They are guided step by step through each sectoring stage. Thanks to the solution's flexibility and editing capabilities, the user can manually reconstruct sectors based on his field knowledge and thereby manage his own activity's and customers' specific characteristics. 
Thanks to powerful optimization algorithms the solution automatically generates the optimal sectoring solution combining geographical compactness and statistical business data (balanced turnover potential, fair workload…).
The most important new features of this version 2.0 include automatic point geocoding as well as improved ergonomics with a comprehensive makeover of the interface for more intuitive navigation, new export capabilities and easier mapping of import fields.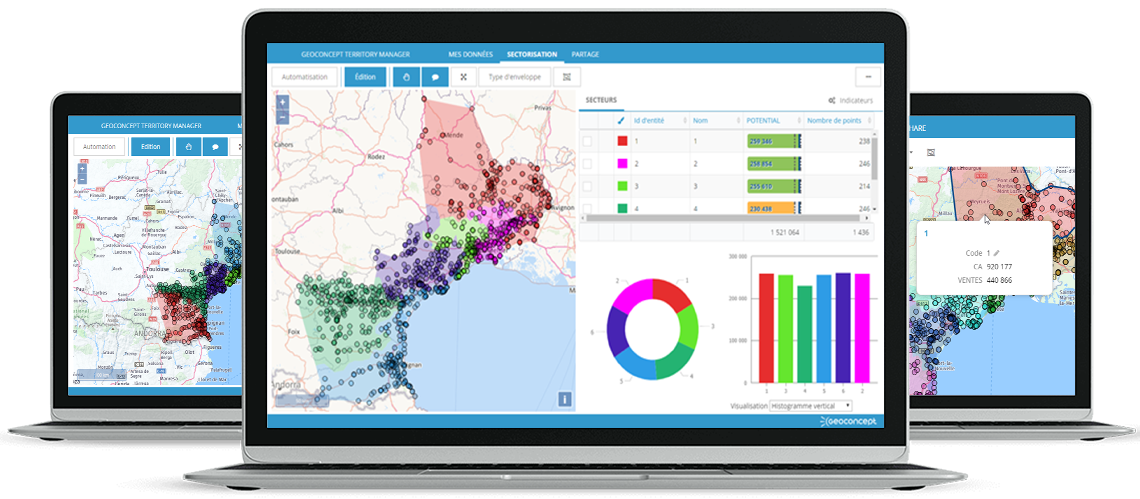 Geoconcept Territory Manager combines all the advantages of the cloud within a strategic solution for building balanced, realistic and profitable sectors in just 3 steps:
1.       Represent one's organization:
To view the current geographical distribution of activity, teams and resources (customers, regional agencies, points of sale, warehouses, assigned areas...) simply by dragging and dropping a file or directly from a source stored locally or in the cloud. A user-friendly wizard then enables you to map the columns in the imported file easily to the fields managed by the application. During this stage, the user defines the indicators on which he wants to base his organization (potential, work, number of customers…).
2.       Understanding one's organization:
To identify the imbalances and dysfunctions which jeopardize achievement of the objectives: oversized geographical sectors, unfair potential, customers, not covered. Imported and geocoded data are then rendered on a map and in tabular format.  The user can thus clearly see his current organizational status.
3.       Optimizing one's organization:
To automatically balance sectors (workload, quantities to be delivered, potential turnover…), change objectives and anticipate changes to define the optimal distribution of activity and resources. Once the user is satisfied with the sectoring result or wants to revisit it at some later point, he saves the results to the format of his choice ((Excel, CSV or Google Drive). The file can then be easily shared with another user.
Geoconcept Territory Manager, the solution for fair distribution of operational activities, teams and resources