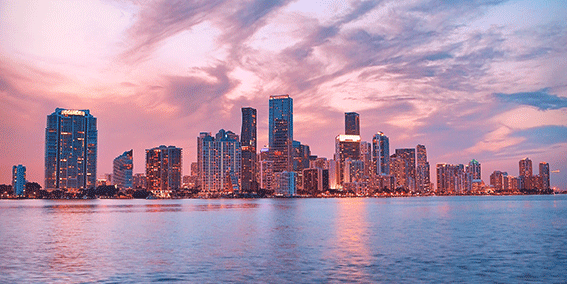 GEOCONCEPT opens subsidiary in the United States
The French publisher continues its international expansion, into North America, and announces the signing of a new sales contract with Blinds To Go, a specialist of custom window treatments.
Paris, March 19th, 2019: GEOCONCEPT SA, the designer of geographical optimization technologies for professionals, is announcing the opening of a subsidiary in Miami, Florida. This is the publisher's fourth international subsidiary, after India, Switzerland, and China. The opening of this American subsidiary has been formalized in March 2019.
This new subsidiary will be headed by Pierre-Antoine TRICEN, previously the Asia-Pacific regional director and head of the Shanghai subsidiary. He will now coordinate the various Support, Sales and Project teams for the North American region.
GEOCONCEPT's ambition in investing capital of 1.9 million euros in setting up this subsidiary is to develop new strategic partnerships in the country and quickly conquer market shares in several key sectors such as industry, building, distribution, and health. 
Vigorous growth in the mobility market
According to IDC forecasts, the number of mobile workers in the United States should reach 105.4 million in 2020, more than 2/3 of the American workforce. In an era of ultra-mobility, therefore, optimizing the movements of companies' field staff is high on companies' priority list more than ever before.
The North American market is always looking for innovations to accelerate transaction speed and improve the customer and user experience. To optimize their field staff's diaries and movements, American companies are turning to proven field service management technologies, such as GEOCONCEPT's Opti-Time solution, recognized in the Gartner Magic Quadrant for Field Service Management, Gartner being the world leader in IT research and consulting.
"Conquering the North American market is a new key phase in GEOCONCEPT's development. We are enthusiastic about accepting all the challenges awaiting us, and impatient to do so, as our reach and horizons expand" says Pascal Beauvillain, Director of Global Sales at GEOCONCEPT.
New sales contract with Blinds To Go
GEOCONCEPT is no stranger to North America: its strategic partnership with Salesforce.com, in particular, enables it to participate in various projects in the region, and its Opti-Time solution has been deployed for some months in several of its French customers' US and Canadian subsidiaries.
GEOCONCEPT also reports having won a new sales contract with Blinds To Go, an American company specializing in the production and sale of custom window treatments. With its high-end positioning, this specialist offers a genuinely bespoke service:  a designer visits the customer for an advisory phase and to identify the requirement. In a two-stage process, technicians then take measurements and install the window treatments.
Blinds To Go opted for the Opti-Time scheduling management solution to optimize all its field service agents' appointment bookings and movements, namely 250 designers and installers in the United States and Canada.
"We are pleased to have entered this partnership with a top vendor in the Field Service Management space.  Currently, we are working together to build an integrated solution.  Once realized, I'm sure we will enhance our ability to meet and exceed our customer expectations," says Richard Akos, Senior IT Manager at Blinds To Go.
Opti-Time is a key element to the company's concierge service.  Blinds to Go is eagerly preparing to take advantage of the capabilities and will begin to rollout services later this year.  Opti-Time scheduling optimization has advanced capabilities that many other American companies should soon be able to enjoy!