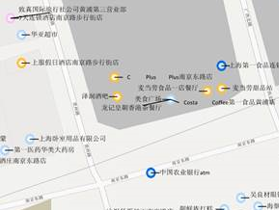 Enhancement of Geomarketing offering in China
GEOCONCEPT enhances its Geomarketing offering in China
Companies located in China – both Chinese and international brands – can now use a comprehensive package of data to analyze and optimize the performance of their sales networks.
Companies located in China – both Chinese and international brands – can now use a comprehensive package of data to analyze and optimize the performance of their sales networks.
Paris, 5 May 2015:  GEOCONCEPT SA, the designer of geographical optimization technologies for professionals, is announcing the provision of a new package of Geomarketing data in China. This new offering will enable companies to benefit from the best data for the geographical optimization of their activities on the ground: network performance analysis, siting of points of sale, direct marketing operations, etc.
A new package of Premium data



In addition to the data already to be found in its Standard offering (road maps, public transport networks, multiple points of interest –  service stations, shopping malls, airports…), GEOCONCEPT  is offering a new package of Premium data to help its customers perform more accurate analyses, tailored to specific issues.
Specifically, this new package of Premium data includes:
The establishment of a territorial grid based on postcode
Previously, networks could only be delineated by province, town or district. A higher resolution grid than the district, this new zoning based on postcode - comprising 6 digits in the case of China  - is proving very useful for the Geocoding of customer bases, for thematic analyses or for targeting marketing.
Qualitative data on points of interest
It is now possible to access detailed information on various points of interest such as restaurants, hotels, shopping malls...In particular one can see what average price is charged in these establishments, or their popularity on social networks. This information is useful if choosing a site location or deciding which area to cover to grow one's sales (working-class areas, affluent areas…).
Demographic data by neighborhood
For even higher-level resolution analysis; demographic data have been compiled by neighborhood based on the census: this provides access, for example, to the percentage of men and women, to average age, to average income or even to the average online shopping basket for any given neighborhood.
Demographic data by building
Depending on the type of building, its height, its surface area or even the population density of the town in which it is situated, a statistical model identifies if prospects are likely to be present in this building. This makes it possible to assess the customer potential in small and dense catchment areas, which is very frequently the case in China. One can also analyze population flows by hour of the day: day or night (residential building at night versus office/commercial premises by day).
 
Covering the whole of China, these new data are available in GIS-compatible format and as high-resolution images. Updates are planned every 3 months.
 
GEOCONCEPT continues to develop in China
Following the opening of a subsidiary in Shanghai in 2007, GEOCONCEPT has entered into a number of sales partnerships to offer cartographic optimization solutions (Geocoding, Geo-optimization, Geomarketing) to local companies. The company is now well established in the territory with both local (National Salt Company, Chinese Ministry of Transport, China Mobile,…) and international reference sites  (Pernod-Ricard, Apple Asia, Air Products Chemicals, Pfizer,…).
"17.5 times bigger than France, China is a huge and complex market in which possession of reliable, consistent and inexpensive data is a real challenge", said Pierre-Antoine Tricen, Director of GEOCONCEPT's Chinese subsidiary.  "This new Geomarketing data offering therefore represents a tremendous and efficient opportunity whereby brands can harness cartography to improve the performance of their network." 
About the GEOCONCEPT Group
Created from the merger between GEOCONCEPT, Europe's leading Geographical Information System publisher, and Opti-Time, which publishes software for professionals, today the GEOCONCEPT Group ranks among the world leaders in enterprise cartographic and optimization applications.
Always at the forefront since it was founded in 1990, GEOCONCEPT combined geographical information and optimization tools to invent geo-optimization, or the optimization of activities by intelligently integrating geographical information into systems. Innovation is always at the heart of the Group's strategy with 25% of its expenditure dedicated to R&D. The benefits of geo-optimization apply to areas as varied as geo-marketing, territory management, crisis management or mobile workforce management… Within each area, the geographical optimization components and solutions can be integrated directly by the clients or by Group partners.
The GEOCONCEPT Group has locations in Paris, Grenoble and Caen, as well as foreign subsidiaries: Chennai/India, Geneva/Switzerland, Madrid/Spain, Shanghai/China. Strategic partners also resell the Group's solutions in London/Great Britain, Mexico City/Mexico,  São Paulo/Brazil, Tokyo/Japan…The Group's solutions are available in 7 languages. Today the GEOCONCEPT Group boasts more than 10,000 reference customers at 100,000 geo-optimized resources in 35 countries.