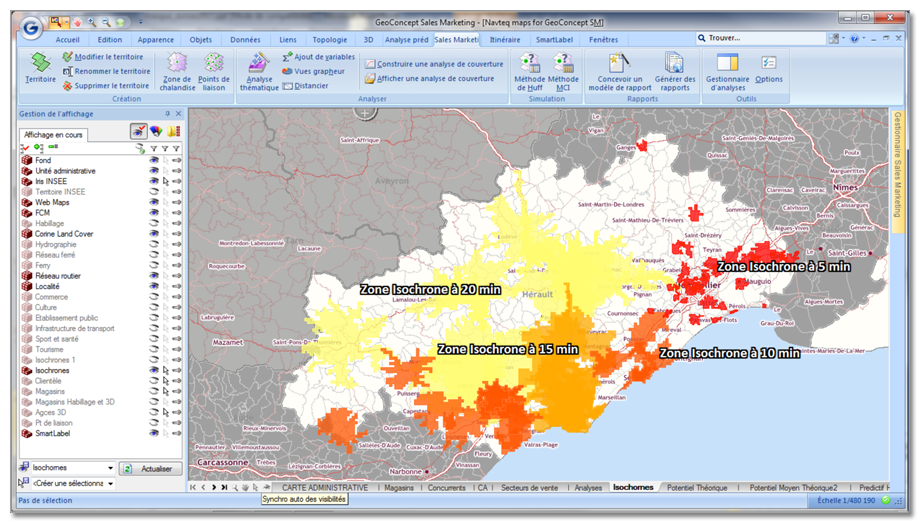 The catchment area is the geographic area from which an agency or a sales outlets attracts its main customers, whether prospective or existing.
Catchment area analysis is an indispensable decision support tool for evaluation and optimizing the distribution of your network of sales outlets or services.
---
The catchment area can be determined thanks to different techniques :
with an accessibility analysis (determining isochrones, for example a less than 15-minute drive time catchment area), or with a gravity model, for an even more precise assessment
with an analysis determining the geographical origins of the existing customers (store survey, delivery note analysis, postcode capture, check addresses analysis...)
Determining the catchment area of your sales outlet is very important : you can then analyze its sales potential, according to your customers and competitors. You can carry out this analysis before setting up your new sales outlet, in order to choose the best location, but also after to optimize your marketing methods (communication, means of signaling, offer adapted to your customers...).
Comparing the potential of an area with its existing customers helps you analyze the possible improvements you would have to carry out in your local communication (poster campaigns, mails with and without addresses, advertisement in the press).
Moreover, creating and displaying isochrone areas enables you to identify the customer coverage of each of your sites and to display areas not covered or cannibalized areas.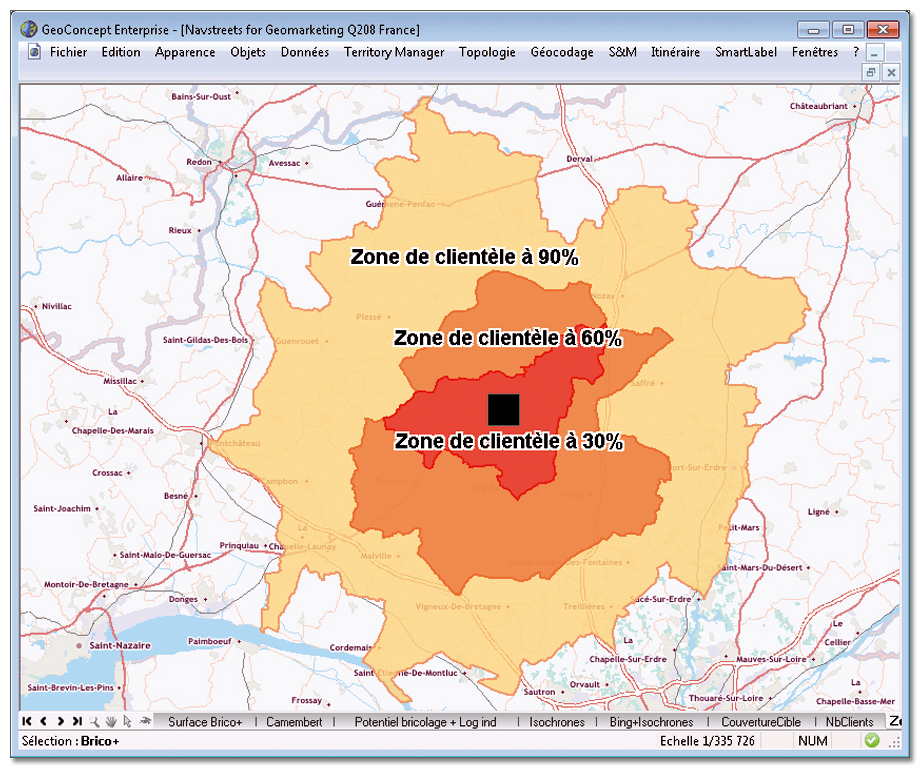 An expert in geomarketing for the past 20 years
GEOCONCEPT provides decision-makers and operations staff with a complete range of solutions with a wealth of functionality and web versions that facilitate interaction between company stakeholders:
Geomarketing analysis : optimized decisions
Creation of catchment areas, calculating potential, thematic analysis, site simulation
Geocoding, sectoring, predictive analysis, web portal, reporting...
Powerful tools to control your geography and to optimize your sales and marketing decisions