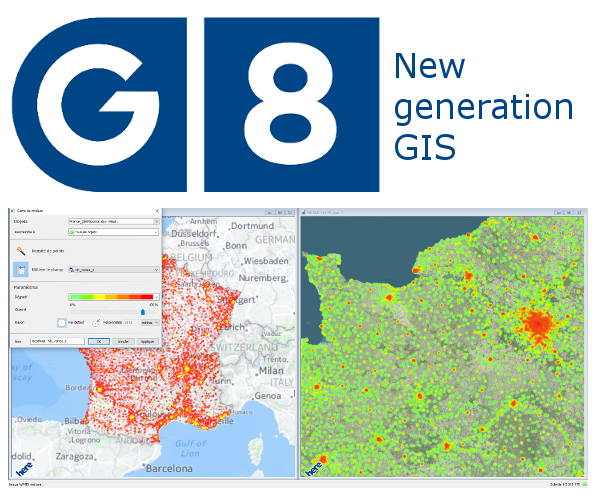 Big GEOdata: GEOCONCEPT launches Geoconcept 8.0, the new version of its geographical optimization engine
Professionals will be able to exploit the potential of their geographical data to the full by leveraging a more powerful and user-friendly geo-optimization engine.  
GEOCONCEPT is announcing the launch of Geoconcept 8.0, the major new version of its geo-optimization engine, which enables data to be collected, represented, organized, analyzed and published on a map view.
Whether locating prospects, field resources or sales outlets, geolocation practices have become an indispensable part of brands' development strategies. This has triggered an explosion in the availability of spatial reference data that organizations must be able to collect and exploit effectively if they are to make the best decisions.
In this era of Big Geodata, GEOCONCEPT is unveiling Geoconcept 8.0, a new generation geo-optimization engine, designed to satisfy office application and map server requirements alike.
Some of Geoconcept 8.0's principal new features:
Processing of large volume of data: the Geoconcept 8.0 engine is now available in a 64-bit version, making lighter work of large volumes of data. Map size is now unlimited and a computer's memory can be exploited to the full. 
Automatic display updating and a new graphical engine: Geoconcept 8.0 provides a smoother map navigation experience and greater responsiveness during automatic refreshes. Users save time when operating the tool. Graphical quality has been improved for even more attractive map rendering.
Creating heat maps: Geoconcept 8.0 enables the density of a phenomenon to be displayed using a very simple and intuitive interface. These hotspots, as determined by a greater or lesser concentration of values, make it easier to understand the data being analyzed: geographical distribution of customers, prospects, service call frequency, call duration etc.
Updating composite thematic analyses: The graphical library incorporates new graphical formats and the ability to add labels to them. This feature makes it possible to understand, at a glance, the distribution of an event across a given territory and to interpret the data more effectively. 
Publishing interactive documents: Geoconcept 8.0 incorporates a new option for generating multilayer PDFs and publishing interactive documents. Recipients can select the layers they wish to superimpose.
At the launch of this new version, Eric Lanzi, GEOCONCEPT's founder and CEO said: "Nowadays, Big Geodata is a real challenge for every organization. We are delighted to be able to offer a new generation geo-optimization engine which will help our clients to face their performance, openness and sharing challenges."