The new generation GIS solutions
A cartographic website for public use, a georeferenced knowledge base and Big Geodata, automated and operational reports for the emergency services...

The Geographical Information System (GIS) is becoming collaborative to prompt organizations to work together and take appropriate decisions.

Territorial knowledge
Geocoding, thematic representation and analysis, network management

Optimized decisions
Route optimization, route calculation, 3D analysis, search around function...

Information sharing
Geographical reports, cartographic websites, publishing of online maps

Mobility of teams in the field
GIS in touch-sensitive mode, responsive design websites, geolocation.
Comprehensive, powerful and simple Geographical Information Systems.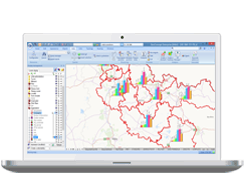 Reference GIS solution
Creation, management and analysis of geographical data
Database and Web Maps connectivity
Touch-sensitive interface
Online geocoding
Optimization features: sectoring, route calculation...
Integrated report generator
Publication of maps and reports on the web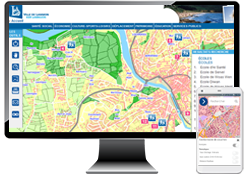 Web-based solution for publishing maps and creating geographical applications
Numerous geo-optimisation features (geocoding, route calculation, optimisation, search around function...)
Intuitive interface designer
New generation installer
SOAP/REST web services
Websites suitable for mobile use (responsive design)

Free 30 day trial use of the Geoconcept Geographical Information System!
The GEOCONCEPT GIS addresses all your business issues:
What is a GIS ?
A GIS (Geographic InformationSystem) is an informatic solution that allow to organize, analyse and visualize information on a cartographic view.
Apart from map creation and publishing, GIS covers the collation, combination and use of geographically located information, be they in image form (raster) or vector data.
Geographical Information Systems have many uses. They are relevant to all businesses whose operations are terrain, and thus geographically, related : marketing analyses (geomarketing, performance analysis), delivery route optimization, sales route optimization, management of technicians' schedules (after sales service, installation and maintenance),  management of local authority equipment and infrastructure, strategic and operational management of the security forces  (defense, fire service, police, ambulance) ...
GEOCONCEPT is Europe's leading Geographical Information System (GIS) publisher .

Learn more about our Geographical Information System (GIS)