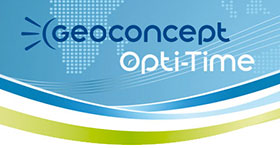 GEOCONCEPT's acquisition of Opti-Time aims to create a French leader in mobility and geographical information
Technological complementarity and large market coverage give the new "GEOCONCEPT Group" a crucial lead in the mobility sector and will spur both its growth and capacity for innovation.
Technological complementarity and large market coverage give the new "GEOCONCEPT Group" a crucial lead in the mobility sector and will spur both its growth and capacity for innovation.
Paris, 13 September 2012 : GEOCONCEPT, the designer of geographical optimisation technologies for professionals, is today announcing the acquisition of Opti-Time, which publishes software for organising enterprise mobile resources. To date, GEOCONCEPT has acquired 95% of Opti-Time's capital, with the dual aim of creating a highly innovative company and the emergence of a market leader in the logistics performance and Field Service Management fields (management of mobile teams, delivery people, sales staff, technicians). This acquisition demonstrates GEOCONCEPT's dynamism in the geographical information sector and its ongoing contribution to France's economic fabric as an innovative SME.

The GEOCONCEPT Group is the leader in optimising mobility and geographical information
The move announced today is based on the merger between Opti-Time and GEOCONCEPT to create the GEOCONCEPT Group and will be finalised with effect from 1 January, 2013. As of today, the GEOCONCEPT Group and its subsidiaries number more than 100 employees, 25 of them originating from Opti-Time. Thanks to the two players' complementary expertise, technologies and market coverage, this positive merger affords the GEOCONCEPT Group a critical mass, enabling it to bolster its position as a publisher of software solutions by providing greater development resources, and thus an enhanced capacity for innovation. With a historically strong presence in Latin America, Opti-Time opens up a new sales territory for the GEOCONCEPT group, which, for its part, is firmly rooted in Europe and Asia, with a presence in China, Japan and India in particular.
Financially, the GEOCONCEPT Group's near-term goal is to achieve a turnover of 20 million euros and to maintain double-digit net profitability. A strategy will be built around consolidating international development, merging teams, organising technological product ranges and continuing to innovate, be it in terms of software solutions or the associated services.

Betting on mobility to drive the full range of product lines
First and foremost, the acquisition will stimulate GEOCONCEPT's efforts to drive forward a fast growing geoscheduling and mobility market. Integrating Opti-Time's technologies will enable GEOCONCEPT to redesign a unique, comprehensive and coherent portfolio of solutions dedicated to optimising enterprise mobile field workforces, enabling both its own and Opti-Time's clients to improve their productivity on the ground. The complementary nature of the software functionality will also enable the GEOCONCEPT Group to increase its presence in certain market segments, including for example logistics, where Opti-Time possesses important assets, both in terms of technologies and its client base.

Beyond logistics and Field Service Management, by taking advantage of the innovation in terms of mobility the merger provides, the GEOCONCEPT Group anticipates developing the full range of technologies offered by its other business units – geomarketing, crisis management, territory management, thereby satisfying an increasing need for ability on the part of all those involved in the geographical chain, be they from the public or private sector.

The GEOCONCEPT Group's new range of solutions will be officially unveiled on 10 and 11 October at the Mobility for Business trade fair at the CNIT in Paris.
"Logistics and Field Service Management are high growth potential activities and ones in which it is important to invest for the future", said Didier Robert, GEOCONCEPT's Managing Director. "That is why we see this acquisition as being the opportunity to create a genuine leadership position and to raise the bar even higher in offering geoscheduling and mobility solutions that fully meet the future expectations of a market already experiencing significant growth."

---
About Opti-Time

Opti-Time SA is a company that publishes real-time software for team and call scheduling, for optimising vehicle rounds and geomarketing. Opti-Time SA's design solutions enable productivity gains of between 10 and 40%, depending on the context. Opti-Time SA has offices in Paris, Grenoble, Caen and Bogota. Its direct sales team covers France, Spain, Italy and Latin America (Bogota). It operates in 35 countries through its network of more than 60 distributors, including reference clients in Germany, North America, Latin America, Austria, Benelux, Spain, Eastern Europe, Italy, United Kingdom (Xmbrace).
www.opti-time.com
---
About GEOCONCEPT
European leader in Geographical Information System, today GEOCONCEPT SA ranks as one of the world's leaders in mapping applications and enterprise optimisation. Always at the cutting-edge, GEOCONCEPT SA is the only "designer" of innovative solutions aiming to bring about a profound improvement in companies' and organisations' efficiency. By combining geographical information with optimisation tools, GEOCONCEPT SA invented geoptimisation, optimising activities by intelligently integrating systems with geographical information. The benefits of geoptimisation apply to areas as varied as geo-marketing, territory management, crisis management or mobile workforce management… GEOCONCEPT SA has enjoyed sustained growth ever since its creation and continues to expand internationally by means of a direct presence in a number of strategic countries such as Spain, Switzerland, Japan, China, and more recently India. GEOCONCEPT solutions are available in 7 languages. Today, GEOCONCEPT SA numbers more than 10,000 client references and boasts an installed base of more than 105,000 licences in 30 countries.
Contact presse : AxiCom France
Elise Koenig  Tel : +33 (1) 41 06 18 07