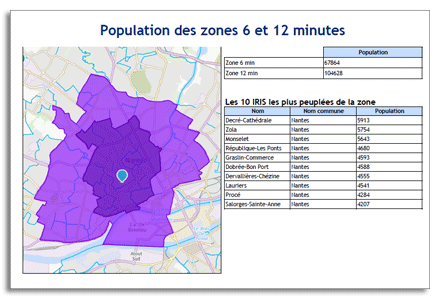 Reports for Geoconcept software enables operational staff and decision-makers to design and publish, quickly and easily, personalized reports featuring rich and varied content (maps, tables, graphs, images, formulae...) from geographical data manipulated in the GIS.

Thanks to its ergonomics and speed of integration, this module adapts perfectly to the real needs expressed by organizations in different sectors (retail, banking/insurance, firefighters, local authorities…).

Distribution
Reports for Geoconcept features a powerful report publishing engine that enables any type of report to be generated easily and at any time.
Thanks to its mass-generation capabilities, the module increases productivity enabling mass-production or the reissuing of reports once the associated data have been updated. All that with just a few clicks of the mouse. To facilitate communication, the document so created can be distributed in numerous formats.

Business sectors
Based on the GIS kernel, the module can be accessed from Geoconcept Enterprise as well as from the full range of business and sectoral solutions :

Geoconcept Sales & Marketing, Geoconcept Dispatcher or Geoconcept Defence. Activity reports, scorecards, roadmaps, reference atlases, etc. Reports for Geoconcept adapts to every requirement.

Content
Designing and publishing documents with rich and varied content is easy.

Dynamically linked with data manipulated in the GIS, the reports are enhanced with maps, tables, graphs, images, formulae… Specific pagination elements are also available.

Customisation
Report design is entirely customised. With the help of wizards, the user defines his own report templates and applies them to the chosen objects (geographical selection, query, list).
The customisation tools available to him enable the user to build different groups of types that are simple to organise.
Features
Models
Using a wizard, the user defines a report template made up of elements known as "blocks" (maps, graphs, texts, tables, dynamic formulae and pagination elements).
These blocks are contained in "bands" which give the report its structure. The model is then saved in a specific folder in XML format for application to one or a number of reference entities.
Styles
The user can define then reuse graphical styles to customise the appearance of the blocks. This automates and standardises the report formatting. A style may, for example, ensure that a company's graphic design standards are applied by the different services within the company.
Data
The information manipulated in Reports for Geoconcept is directly and dynamically linked with the geographical data in the GIS. The model then interrogates objects on the map (geographical selection, query, list) and the report is generated on the selected reference entities (territories, regions or departments, shops or any other point object).
Dynamic text
Depending on certain information contained in the data, comments and specific formatting can be automated. Reaching a value then triggers the drafting of the selected text ("greater" or "less than", "satisfactory" or "inadequate", "many" or "few"…) or the colouring of a line in a table.
Formats
A number of output formats are offered: PDF, XLS, XLSX, HTML, RTF, TXT, CSV as well as the PNG, JPEG, GIF, TIF, etc image formats.
One and the same report can be published in different formats

Expert
Advanced functions are available for the more experienced : sub-reports, integration of barcodes, pivot tables, coverage analysis…
Graphs
Reports for Geoconcept enables map data to be presented in graph form. 47 types of display are available: pie charts, histograms, radar, curves, Gantt charts…
Tables
Reports for Geoconcept enables geographical data to be displayed in tabular format and calculation formulae applied to them. Sum, average, sort…numerous operators are available, from the simplest to the most complex. The results obtained can be highlighted using conditional formatting.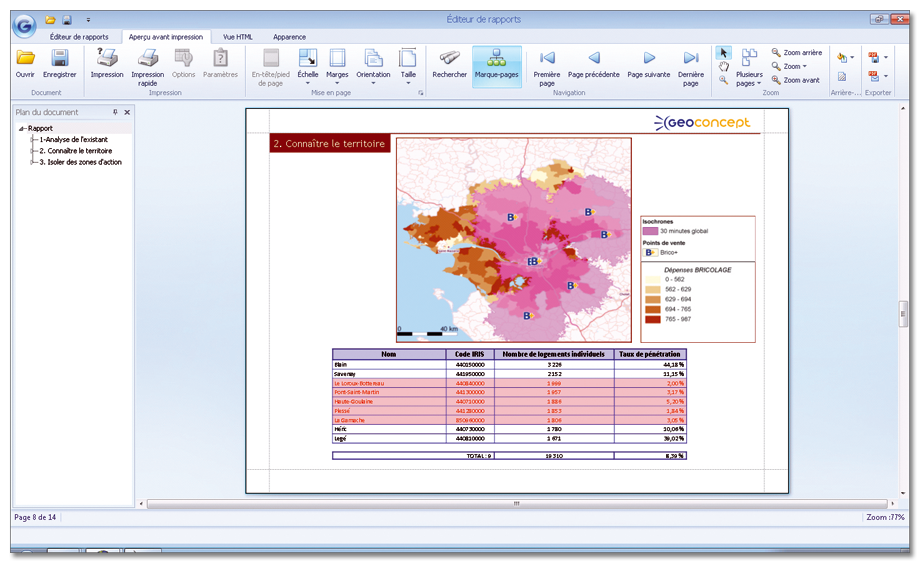 You want to receive an offer, or to assist a one-to-one demo?