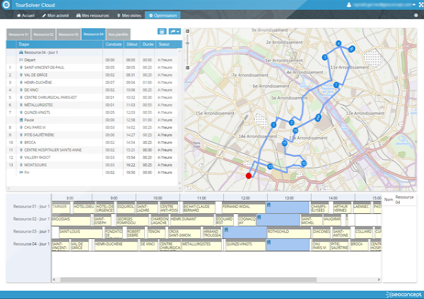 GEOCONCEPT launches TourSolver Cloud 2.0, a new version of its route optimization solution in SaaS mode
With its new features, this version considerably expands its optimization capabilities while offering an improved user experience.
A cloud API is also available to enhance the existing applications of route optimization features.
TourSolver 2.0 is the new version of its route optimization SaaS solution 100% cloud
This tool enables logisticians, planners and mobile resources as a whole to define optimal route plans in a simple way, while taking account of the constraints imposed by customers, human resources and each vehicle's specific characteristics.
Easy to use, TourSolver Cloud targets companies that wish to adopt a simple tool, with a quick break-even point, suitable for all businesses and all fleet sizes. In just a few clicks, the user defines the most profitable organization and routes possible, and is able as a consequence to reduce the distances and travel times involved in each movement. As a bonus, organizations benefit from lower logistics costs, an increased number of deliveries or callouts, improved customer service quality and lower CO2 emissions.
New features for accurate and personalized optimization 
Assisted by a wizard integrated within the very heart of the solution and enabling step-by-step guidance, TourSolver Cloud 2.0 offers a 4-step route optimization that integrates new features for a more accurate and personalized optimization:
Configuration of the activity: the user simply defines the terminology suited to his business and country of operation:  91 possible countries, new geographical regions (North America and South America, China and India…). 

Definition of characteristics common to all resources
(working hours, allocation…): the user can now fully model his resource activity by factoring in numerous new constraints affecting the vehicle, the schedule, loading/unloading, costs, overnight stays, driving legislation…

Visit location and characteristics: the user easily integrates the file containing the calls to be made, including all the constraints to be taken into account (loading time, time window, quantity to be delivered…). Calls are automatically geocoded and the interactive processing of inaccurate addresses enables the user to improve the quality of his customer data.
Route optimization: based on business and geographical constraints, the TourSolver optimization algorithms calculate the most profitable routes possible. Incorporate a last-minute call, reassign, add or delete comments…: TourSolver Cloud 2.0 enables the scheduler to put his knowledge of the ground into practice by manually modifying the optimized route plan. Notifications alert the user if the modifications made do not comply with the defined constraints. And a fresh optimization can be initiated after any modification.
Improved ergonomics for a flexible user experience
To make it easy to pick up the system, the user is helped to discover each page when he first connects to it. User-friendly wizards then guide him step-by-step throughout the simulation. And the solution automatically adapts to the context in which it is being used: the overall configuration is recorded at the time of first connection and can be modified subsequently if required.
An API to enhance existing applications
TourSolver Cloud 2.0 is also a documented SaaS API enabling developers to incorporate multi-constraint route optimization into existing applications.  Easily deployable, this API links to the TourSolver optimization engine and benefits from the cloud architecture's advantages  (authentication, queue management, load balancing and multi-tenant).
The API TourSolver Cloud can be associated with other GEOCONCEPT Cloud Web Services: geocoding, cartographic display, route calculation, search around function...